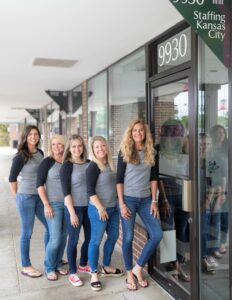 After a long 15 months of pandemic-related craziness, it's time to get back to what we love doing and reconnect with family and friends this summer. The staff at Staffing Kansas City are making plans already to resume team building events, including Royals games, spa days, Top Golf and bowling outings.
We're also excited to sponsor and attend charity golf tournaments and other networking opportunities, including the planning of our annual Client Appreciation Party in October.
Check out what the Staffing Kansas City Staff are up to this summer:
My exciting summer plans are to be able to visit friends in Tulsa. I'm a horse enthusiast. My horse's name is Susie, and we are entered in a BIG BONUS Barrel Race in July. I will also be busy with family gatherings for Pond Day, 4th of July and Labor Day before wrapping up the summer entering a BBQ contest for the first time. My friends and family will be at the Hillsdale Tavern for a charity event.
Shelley Seibolt, Recruiter & President
Summer is one of my favorite times of the year. I love the light, long and warm days, and I'm excited to spend as much time as I can at Table Rock Lake with my friends and my family. We boat, hike, grill and laugh. I am especially excited to water ski. It's been years! I love tending to my herb garden and beautiful flowers and also enjoy mowing my grass but not weed eating.
Roses Ammon, Sales/Marketing & Vice President
I am excited to go to Breckenridge for our annual family trip! We hike and eat and cook and it is one of my favorite memories to make each year. This is the first year we are going to be road-tripping it, which should be a new adventure. Swimming is always a highlight of every weekend in the summer as well as summer baseball games for my kids.
Marie Phelan, Associate VP of Recruiting
This summer I'm excited to get back to the fun social events that we are all used to. I'm ready for some concerts, family picnics/reunions and travel! I am planning a vacation with my kids to see some country we have never seen before. Just being out among other people is what I am looking forward to.
Michelle Lee, Recruiter and HR
Like summers of the past, I look forward to the exceptionally long and fun summer days and nights with my little one. We stay up late to chase lightning bugs and view stars and the moon with the telescope. Throughout the summer we are blessed enough to experience harvesting the different gifts of the garden – peas, tomatoes, cucumbers, peppers, watermelon and watching the sunflowers bloom in all their brilliance. It's our delight to watch the butterflies, the hummingbirds, as well as hop around with the frogs in the creek. The best part of the summer is just as simple as being together and taking advantage of those precious moments of the season before Fall and the duty of school approaches.
Ashley Gardner, Recruiter