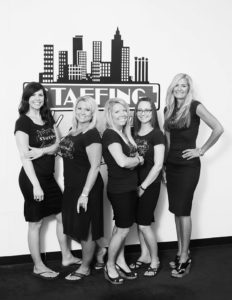 Many of us think nothing of relying on experts to get a job done right. We take our car to a mechanic to get the brakes fixed, we work with a realtor to sell a home and we look to a medical expert to help us feel better fast when we are sick. Yet, it's easy to wonder why the same concept isn't applied for hiring or why it's only considered some of the time.
Too many times, employers looking to hire only think of staffing agency's as a method for hiring temporary or contract workers. Staffing Kansas City is here to tell you the offerings are much greater. Job recruiters are experts in hiring and they can save time and resources in the hiring search. Don't believe us? Ask anyone who has attempted to hire in-house about the inherent time suck that comes along with reviewing applications, conducting phone interviews and scheduling in-person meetings. Often these critical hiring tasks become burdensome extra duties in addition to a normal workload.
Not a Singular Transaction
For those feeling the crunch, this can lead to a mentality that sometimes it's best just to get someone in the door. With such an attitude, it becomes easy to justify that the hire can be right-sized and trained for the role or for the environment. While this can happen sometimes, it's a big risk that's potentially expensive and one that can be easily avoided.
This is when it makes good sense financially and logistically to include an advisor who is versed in the hiring process. A staffing recruiter's primary roles are to connect candidates with the right job roles and the right candidates with the right employer. At Staffing Kansas City, we believe advising our candidates and our clients is one of the most important things we do. We understand that as a company ebbs and flows, so do its needs and a job placement is not necessarily a onetime transaction.
Long Term Relationship
Instead, it's the beginning of a longer-term relationship where we take the time to get to know a client's needs. Armed with this information, we are on the lookout for candidates that fit into these needs. Even if a client's need is temporary, say over the holidays or summer, we want that placement to be a fit that benefits the candidate and the workplace. We're also keeping tabs on passive job seekers who could be perfect once the right opportunity opens.
Because we work with employers throughout the Kansas City area, Staffing Kansas City's recruiters are attuned to what's happening in the local market, which is a benefit to all those we work with. We know each candidate that walks through the door is a potential fit and we're here to advise on how the right hire could enhance a workplace in the short- and long-term.