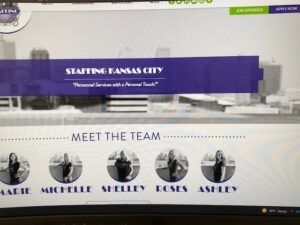 It's crazy times, but you probably didn't need anyone to tell you that. If you're in the job recruiting business or a job candidate yourself, I'm guessing you know exactly what I'm talking about. On the recruitment side, workers are resigning in increasing numbers, leaving staffing agencies with even more positions to fill. If you're a job candidate, you're probably wondering why it's so difficult to find a job right now.
Businesses throughout the metro are short-staffed. Overworked employees are a common sight and a growing testimony to the struggle. Recruitment is further complicated when a candidate does not show up to an interview or ghosts the position altogether. This leaves clients and existing staff holding the bag, knowing it will now take even more effort to hold the current ground.
During these hectic times, recruiters are so busy there's no time to give everyone who calls 5-10 minutes on the telephone. Conversely, if you're in the process of looking for a job, it's easy to become discouraged, particularly if you have questions or are waiting to hear about an open job position.
Expediting the Process
If you're looking for employment, Staffing Kansas City has processes in place to expediate the connection. The first step is to check our daily job postings and apply online. Fill out the work history part of the application and make sure all information is filled in. Having complete information in the application is the most important aspect to helping a Staffing Kansas City recruiter match your skills with a potential role and determine if we are the best fit to help you in your job search.
When the application is complete, a recruiter will review your information and call to schedule a virtual interview. Once we conduct the interview and skills testing is complete, this is the time to talk about the opportunities that align with your employment experience.
If you're an employer that's looking for employees, Staffing Kansas City's convenient online employer order submission process can save you time. By filling out the short form, we can determine if Staffing Kansas City is the right fit for your open job position. If it's a good fit, we'll send an email and follow up with a telephone call. If Staffing Kansas City is not the best fit for your organization, we will send an email referring what company would be the best to assist you with your open position.
Kindness and Consideration
During these hectic and tumultuous times, it's important to give everyone involved in the hiring process an extra measure of kindness and consideration. Not following up in a timely manner or being available to talk or promptly respond to an email is not personal. It's just not having enough hours in the day to do everything we would like to do in the timeframe available.
Please be kind and patient in these moments. Everyone is doing the best they can right now to match the right job candidates to the best employment positions. Thank you in advance for your understanding.