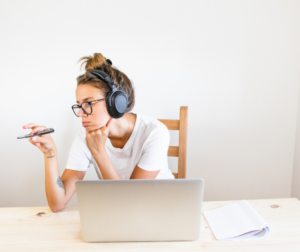 TikTok has struck again. This time with the viral phenomenon known as "Quiet Quitting." Embraced by Gen Z workers, quiet quitting is the act of putting in the least amount of work to not get fired. It is defense: a rejection of the hustle culture, a way to set boundaries at work, and avoidance of job-related burnout.
Laziness or Taking Control?
The much talked about subject of quiet quitting has its roots in China where Gen Z continue to take part in a "lying flat" trend as a social protest to the country's work-first culture. Here in the U.S., the anti-work movement has been active on Reddit since the early 2010s. Reddit threads on the topic include subjects of wage slavery and the deprivation of one's full potential. Over the years, the concept has also been known as "slacking," "coasting" or "checking out."
The quiet quitting movement continues to find traction among the growing number of workers who are not engaged in their jobs. Many surveys quote the level of employee engagement as around 30%. Depending on who you ask, this might be attributed to a pandemic-related shift in values and/or the ongoing divide between employers and their workers.
The Turn Around
Understandably, this trend and its adoption have serious concerns for a workforce that is already in a precarious spot. Only one-third of employees consider themselves to be highly engaged at work, according to a number of polls, and 52% of workers categorize themselves at feeling burned out. It also holds the potential to stall the development of the latest generation of workers and could affect their propensity to become leaders. To mitigate its effects, many employers are looking to re-engage workers by sharing a larger vision of leadership with workers throughout the organization.
Individual Efforts, Big Payoff
This also includes liberal injections of creativity, fun and camaraderie during regular office hours. At Staffing Kansas City, we employ vision boards, lunch out instead of eating at our desks, and bring in a massage therapist for chair massages throughout the year. During the summers, we enjoy half days on Friday and throughout the week, we rotate phone coverage, looking for the big and little wins to make everyone feel appreciated.
Looked at individually, these are often small adjustments/additions, but we see them as important and cumulative. The best motivation to love our jobs is by acknowledging the work, commitments, and contributions of everyone in the organization.
By working together, we can get motivated and productive again.