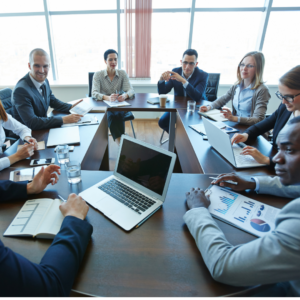 With all the ups and downs of the past couple of years, will things ever settle down? Softening consumer demand, ongoing economic issues and the almost failure of a number of regional banks have many wondering what could be next.
These elements also create a challenge for American CEOs regarding how they look at the business conditions of the next 12 months and the resulting bottom line. A recent poll of CEO sentiment conducted by Chief Executive found the confidence index based on the monthly survey of CEO sentiment dropped in May. Sentiment among CEOs regarding the business landscape in the next 12 months fell in May to 5.9. This was a drop of 4% since the last polling in April. The rating is based on a 10-point scale where 10 is excellent and 1 is poor.
The rating of current business conditions also declined from 6.2 in May to 5.9 in April, the third-consecutive decline. Numbers have not been at this level since July 2022 when many CEOs expected to see a recession based on the Fed's decision making. The depressed outlook is a result of the Fed's inability to reverse inflation along with troubles in the banking industry. CEOs polled believe these events impact the availability of credit, creating an uncertain economy.
Though not all those surveyed agree on what might be coming next. In May, 34% of the 182 CEOs polled by Chief Executive expected improvement by this time next year. 34% expect things to get worse and 32% are going with the status quo. Fewer also foresee increased profitability over the next 12 months. This number declined to 52% in May, down from 57% in April.
The proportion of CEOs expecting increased revenues also declined to 61% in May from 69% in April. This is based on increased buyer hesitancy and slowed spending, according to those polled with spending/demand to be a major challenge over the next 12 months. In response to this, two-thirds of those polled will prioritize cost containment for the rest of 2023. This includes many planning to keep staffing at current numbers. Other strategies include hiring for key skills/areas of expansion, launching new products and services, and expanding into new markets and geographies.
"Financial recovery will take time," said Angela Phillips, CEO of Phillips Tube Group, Shelby, Ohio. "Interest rates will need to come down for the economy to rebound."
While these statistics aren't what any employer or employee wants to hear, these times call for cooperation across industries and creative solutions to weather the things yet unknown heading our way. As a full-service employment agency, Staffing Kansas City can help. We specialize in the placement of office support professionals: accounting, sales, marketing, administration, clerical, reception and customer service.