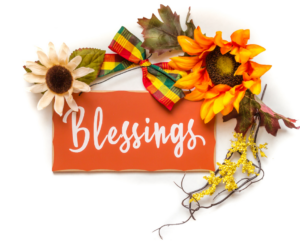 It can be easy to get caught up in the day-to-day grind of life. While keeping up with the continuous cycle of work-home-play, it's sometimes difficult to acknowledge the small bright spots of life – the people, actions and the support we've receive and sometimes fail to take notice of. In the spirit of Thanksgiving, we'd like to share some of our most cherished blessings, and to give thanks to the many people who bless us just by being part of our lives.
Shelley Seibolt
I have so many things to be thankful for and I am grateful simply for that fact. I have a renewed spiritual awakening that has brought some added peace into my life. My children are happy and healthy, and I have a strong bond with both of my sons. I truly respect them and their life decisions. What a couple of amazing hamburglers that I love with my whole heart.
I am surrounded by positive, fun friends that I truly care about and who care about me. I have, after several years of searching, found a life partner that I want to build a future with. I have had success with my hobby of barrel racing and have been enjoying riding my horses each day. The sun on my smiling face and the wind in my hair – lucky me.
Roses Ammon
I am thankful for my health and the health of my big, wonderful family. I am thankful God blessed me with my son. I could not imagine my life without him. I am also thankful for all my friends and the love and support they give me every day. May the years to come bring us all many smiles, lots of laughs and an abundance of blessings.
Marie Phelan
This year I am thankful for the normal, everyday things in my life. I am thankful for my kids going to a great school. I am thankful for the friendship I have with my husband. I am thankful for a job to come to each day. I am thankful for my church community. I am thankful for my health, and I am thankful for the love of my family.
Michelle Lee
I am thankful for this life that is crazy but keeps me hopping. I am blessed with a wide circle of friends to count on for support, and a family that cares about each other. My family and friends keep me on my toes through the ups and downs, and I am grateful for that. I am also thankful for my career in a place that provides challenge and solid friendships as well. Never a dull moment, and I look forward to coming to work every day!
Alex Gearin
I am thankful for so many things, my family that loves and supports me and brings me so much joy. My husband who brings laughter, kindness and a happy home. My dog, Ammo, who greets me the same every day with a happy tail and smile. Thankful for time and the ability to spend moments with family and friends. I am also thankful for my job that is fun and motivating! Lastly, I am thankful for my good health and overall happy well-being.