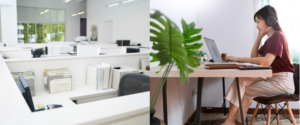 Prior to the COVID-19 pandemic, many businesses had very definite ideas about remote work. While some of those opinions may remain, remote work became a necessity because of nationwide stay-at-home orders. Almost overnight, companies found themselves navigating the issues of remote access, security and procuring virtual communication tools to keep businesses and their employees moving forward.
Over the next several months, employees working remotely coped as best they could. This included many navigating new digital tools such as conferencing and meeting technologies on the fly to keep connected from home offices. Several months later, many employees now find work-from-home the norm. One of the many positives, which came as a surprise to some employers, was the consistency of close-to-normal or higher-than-normal productivity levels from staff working at home.
Productivity Remains High
High productivity levels are one of the main reasons a growing number of companies are opting to continue work-from-home initiatives through 2020, according to an August article in U.S. News and World Report. The article sited the large increase in companies participating in remote work because of the pandemic – from one in three companies now compared to one in 30 companies prior to the pandemic.
Work-at home measures have also helped accommodate the increased need to build in workplace flexibility. 72% of companies now report offering flexibility around hours and work scheduling. Flexibility has become a key component in helping employees successfully navigate the challenges of the pandemic such as additional needs for caregiving, loss of childcare and the need to shift work hours throughout the day to accommodate families trying to simultaneously provide schooling and work. This also includes offering extended leaves of absence, the creation of evening and weekend shifts and provision of additional childcare benefits.
Flexible Policies
As companies continue to rethink their business practices, this has resulted in 40% implementing flexible policies and 24% are adding in flexibility regarding the activities and tasks being done. Depending on the needs of the company, this may also include an increased need for temporary and contract workers.
The growing acceptance of remote work will continue to change along with the evolution of our workplaces. As demonstrated throughout the ups and downs of 2020, the U.S. workforce is resilient and ready to rise to accommodate the yet-unknown challenges.