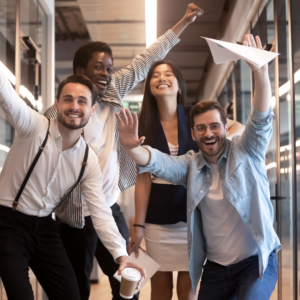 Less collaboration and reduced engagement among employees have become a common scenario in the post-pandemic workplace. Research from the Society for Human Resource Management (SHRM) suggests this combination poses a risk to the mental health and wellbeing of employees. SHRM's research included the perspectives of HR professionals and U.S. workers looking at data collected between November 2022 and January 2023.
Casual Collisions
Findings of the research determined loneliness and burnout to be widespread among onsite employees. To alleviate these issues, CEOs are looking to build spontaneous social interactions among workers to boost collaboration and creativity. This could include social gatherings and even building designs that encourage "casual collisions" to promote unexpected conversations and encounters that could lead to greater collaboration.
Remote workers (35%) are more likely than workers onsite (24%) to report an increased feeling of isolation from their co-workers. Interestingly, this does not mean that remote workers feel disconnected from their work colleagues or are left out of work conversations. 25% of remote workers said their environment is less collaborative as compared to pre-pandemic. Remote workers are also less likely to participate in "casual collisions" and fewer consider co-workers as friends.
"This new research shows that Generation Z and Millennial workers tend to experience more frequent loneliness and also to value casual collisions more than working adults in general," said Annemarie Schaefer, vice president of SHRM Research. "While no work structure is immune to worker loneliness, the data does suggest that unplanned, in-person interactions positively influence employees' mental health. Remote workforces are also vulnerable because they are physically isolated and less likely to identify their co-workers as friends."
Post-Pandemic Contentment?
70% of workers agreed that their work/life balance has somewhat improved over the past three years. But more than one-third of workers are experiencing burnout, although productivity remains high. Feelings of burnout are uniformly strong across the generations among 35% of all workers and 36% of Millennial and Gen Z workers. While engagement in an age of quiet quitting appears to be lower than ever, 86% said they feel as engaged as they did in 2019. Perhaps this points more to the inner workings of an organization and is less of a blanket statement regarding employee contentment post-pandemic.
Prioritizing the mental health of employees is good business and with better mental health, employees will likely have more desire to participate in the kind of "casual collisions" that could benefit the workplace.