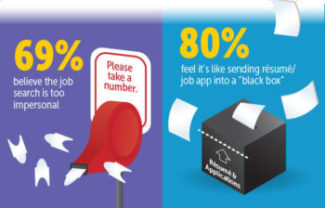 Think the hiring process is impersonal? You're not alone. 69% or 7 out of 10 Americans feel the same, according to the latest WorkForce Monitor survey from the American Staffing Association. The survey found that 8 out of 10 people feel applying for a job is the equivalent of sending a resume or application into a black box.
Many point the finger of blame at technology and its many iterations, yet it's undeniable that technology also continues to improve the job search process. Whether or not you find technology impersonal can often be related to the demographic you're a part of. Today's workplace boasts more variety in terms of demographics than in any other time in history – from Baby Boomers to Gen Y Millennials.
Preferred Contacts
The Workforce Monitor survey found most people prefer face-to-face contact, phone calls and email communication. Less than one-fourth wanted a text message. This preference may or may not take into consideration younger generations who often choose text and instant messaging over face-to-face and phone calls. One place where almost every demographic agrees is the importance of maintaining a strong network of personal contacts. Building and retaining a network continues to be a smart way to fuel a job search. Connections are also a good way for others to get to know you through your friends and business associates.
A similar job search advantage can come from working with a staffing recruiter. Rather than submitting a resume or application into a black hole, your search can build on the connection a staffing recruiter already has with a hiring manager. Recruiters work directly with hiring managers to source quality candidates for a variety of positions. These efforts are instrumental in helping companies streamline their job search to source the most qualified candidates.
The Staffing KC Choice
At Staffing Kansas City, we believe making quality connections is critical to the job search process for both the candidates and the clients we serve. Finding the right hire is about more than a collection of skills and educational requirements. It's also about finding an individual with the right fit for the role and the company culture today and in the future. Don't end up with just another vendor, when you can choose a staffing partner.