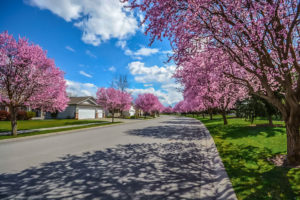 I don't know about you, but I could use some positivity right now. It seems that we've all been on the receiving end of continuous negativity in the form of bad news, conflicting reports and finger pointing that does nothing to move things forward.
What no one seems to be talking about right now is there are some wonderful things happening, too. Amid requested self-isolation measures and quarantines throughout the metro, people have also gained some additional time to enjoy their family.
As I sit working from my home office, it's been wonderful to see people walking outside and viewing the newly green grass and beautiful daffodils peeking through the ground. Bikes are coming out of winter storage and I see families making slow laps around the block. Just walking down the sidewalk you can enjoy the chalk drawings of children who are burning off energy as they share their drawing skills for the enjoyment of all who pass.
Unexpected Bonus
What may have begun to get the family out of the house often morphs into something bigger that offers mental, emotional and physical benefits. For me, these moments are a source of great happiness and hope as I see people pulling together in ways I haven't seen in a long time.
For those who choose to remain indoors, I am also amazed at the creativity and options available online. I've seen people offering free doodling classes, musicians posting online play sessions and fitness and yoga instructors streaming free workouts. It's wonderful!
Online conferencing tools are being re-purposed after hours for online happy hours and coffee meetings that allow us to see and hear our loved ones outside the home. We're learning new ways to nurture, recharge and reconnect in a socially responsible way.
Coming Together
No one could have predicted the unfolding of events over the last couple of weeks. What many of us might also not have expected was the way we can simultaneously come together for the good of our family, friends and community. As more people come together to support, entertain and educate, it's really a beautiful thing. Sending you good health and glass-half-full moments from the Staffing Kansas City team!