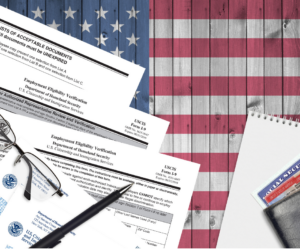 In late April, the Department of Homeland Security (DHS) and U.S. Immigration and Customs Enforcement issued temporary guidance regarding flexibilities related to Form I-9 requirements. Because of ongoing COVID-19 precautions, this included an extension of the flexibilities until Oct. 31, 2022. The original extension was set to expire April 22, 2022. The new extension went into effect May 1, 2022.
Lexology.com recommends employers reacquaint themselves with the original Immigration and Customs Enforcement announcement from March 20, 2020. The announcement provides additional information on how to obtain, remotely inspect and retain copies of the identity and employment eligibility documents for the completion of Section 2 of Form I-9.
It is also recommended that employers begin the in-person verification of identity and employment eligibility documentation for employees hired on or after March 20, 2020. These employees supplied documents for remote inspection in reliance on the flexibilities announced in March 2020.
Form I-9 is used to verify the identity and employment authorization of individuals hired for work in the U.S. All employees and employers must complete Form I-9, both citizens and noncitizens. Employees must provide documents of identity and employment authorization. The Form must be available for inspection by authorized government workers.