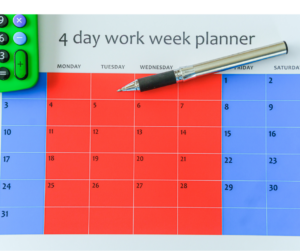 With labor issues showing little sign of easing, some companies are looking for new ways to provide the workforce flexibility and to boost employee retention. Some are finding this by using 4–10hr workdays. A poll of 1,525 randomly selected adults showed strong support for the implementation of a four-day, 10-hour workweek. The poll was conducted for The Business Journals by Maru Public Opinion.
Americans in Favor
Findings from the survey reflect the opinions of a growing number of Americans. And we're not just talking about a small minority. A whopping 82% of full-time American workers polled said they would welcome a division of the 40-hour workweek into four, 10-hour days.
Consensus comes from across the board. 88% of those surveyed earn six figures and 76% make less than $25,000. The poll found women (85%) slightly more likely than men at 79% to be in favor of the shortened workweek. The concept is also supported by those with a graduate degree (85%), less than a high school degree (79%) and workers with a college or associate degree (74%).
Regional Support
Midwest – 84%
Northeast – 83%
South – 82%
West – 78%
International Appeal
A LinkedIn article published in February 2022 cited the experience of Andrew Barnes, founder of Perpetual Guardian, an estate planning firm in New Zealand. Barnes, who instituted the four-day workweek at his business in 2018, shared his positive findings.
While Barnes' vision was largely viewed as impossible at the time, other companies around the world are now embracing the concept. For example, from 2015-2019, Iceland ran what's considered to be the largest trial of a shorter workweek. The study of 2,500 employees within the Reykjavik City Council and the Icelandic national government experimented with a reduction of working hours from 40 hours to 35 to 36 hours. Results found a decrease in the participant's perception of stress and burnout with no loss in productivity. In February, the movement gained further traction when Belgium legalized the right of workers to earn a full salary for a compressed four-day workweek
 Things to Consider
While the idea of a four-day workweek continues to gain momentum, those ready to consider this change will need to look closely at state rules and regulations for salaried exempt and non-exempt workers. Vacation policies will need to be reviewed to ensure sufficient coverage on the fifth day of the week, and employees should explore how a four-day workweek could impact things such as childcare coverage.
It's also important to consider the productivity impacts of a longer workday on the individual and set policies reflecting how employees will deal with work requests received outside of the four-day window.