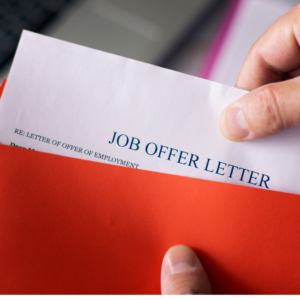 After a lengthy search, you have finally found the perfect candidate. Score! Now it is time to craft an offer letter laying out the terms and conditions of employment using straightforward terms coupled with a clear integration clause.
At Will
Apart from Montana, at-will employment is the default in most states, meaning employment can be ended by either the employee or the employer with or without notice and with or without cause. Although at-will employment is generally the case, an offer letter is the right place to spell out the explicit intentions of the employer and employee in writing.
Specifications of an Employment Offer
State the duration of the term.
Spell out consequences of termination prior to expiration of the term.
Decide if severance is available upon termination.
Consider if payment is conditional and requires signing a release.
Decide the need to give notice to renew/not renew by either the employee or employer.
State what happens if the term is not renewed.
Include a provision for those who can change the at-will arrangement.
Consider Compensation
An offer letter must also clearly state all aspects of compensation and how it is calculated. Hourly compensation should consider applicable overtime rate(s) and salaried compensation will include the per annum rate. In some positions, salaried employees may also be eligible for overtime. Consider if the employee qualifies as exempt or non-exempt from overtime rules according to the regulations of your state and Federal laws. Here are some of the common mistakes made when classifying employees as exempt.
If a commission plan is applicable, you should also mention this in the offer letter. Depending on the state or jurisdiction, it is a best practice to supply commission information in writing for all material terms. This includes saying when commissions are earned, the period commissions are paid or when they are calculated, and the consequences of earning a commission if employment is terminated before a commission is fully earned.
Additional Inclusions
Summarization of key employee benefits.
Delineation of eligibility to the terms of benefits and subsequent changes to those offerings.
Conditions subject to an offer (references, citizenship, visa application).
Appended documents to keep the offer letter concise.
Clarification of agreement through an integration clause.