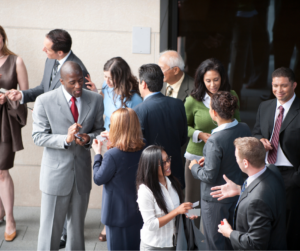 While the last two years have built our resiliency considerably, there are still days when it can be difficult to remain proactive and simultaneously looking forward. Considering how much time many of us spend working, it's not surprising that job security, hiring and career progression are on our minds.
A poll conducted by Andrew Seaman, managing editor for Jobs & Career Development at LinkedIn News, found close to two-thirds of respondents are either worried or very worried about their careers. The other one-third was not concerned, and the rest said they were unsure. In his LinkedIn column, Seaman offered candidates ideas about where to place their energy to feel more in control of one's career destiny.
Network and Build Relationships
Networking doesn't have to be formal. At its most basic, networking is simply spending time, in-person or online, building relationships and talking with others. Often this includes finding commonalities among people, skills, former employees and alumni networks. When in doubt, ask questions and be curious. Take time to establish a relationship as you get to know each person and their interests better. Networking necessitates give and take. It's not a time to ask for favors.
Consider Part-Time Work
Concerns about inflation have many considering adding a side hustle. A Monster.com survey found 73% of those surveyed are worried about the economy and close to half (47%) are going to look for additional work. This could be a win-win – helping employees earn more money while also boosting hiring opportunities.
It could also be a way for employers to bridge temporary work with a longer-term roles. 36% of those surveyed are looking to turn a temp position into something more solid. These try-before-you-buy scenarios are a great way for an employer to get to know an employee's work ethic and a way for an employee to get to know the company culture to see how and if they fit.
Vicki Salemi, Monster career expert, suggested employers add 'temporary,' 'seasonal' and 'part-time' tags to their hiring notices to attract new job candidates. This could also serve as a new pool of seasonal job talent that's willing to come back each season, decreasing the volume of seasonal hiring needs moving forward.
"Not only do you decrease the hiring time, energy, focus and money on hiring these workers to see if they are the right fit; you also decrease training time," she continued.