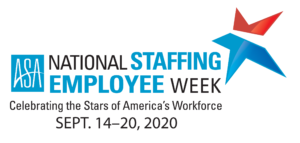 This week, we are happy to celebrate National Staffing Employee Week. Established by the American Staffing Association (ASA), the week honors the ongoing contributions of temporary and contract workers employed by U.S. staffing agencies. The week will kick-off with an announcement of the National Staffing Employee of the Year and industry sector All-Stars. The seven-day stretch is when many staffing agencies throughout the U.S. host special events honoring an agency's most important asset, their employees.
As the need for contract and temporary workers continues to grow, the role of staffing agencies and their recruiters will also expand. In an average week, staffing companies hire around three million temporary and contract employees in any number of industries. Over the course of a year, staffing agencies like Staffing Kansas City are responsible for the hire of close to 16 million temporary and contract workers throughout the U.S.
While considered temp employees, the majority of these individuals (73%) do full-time work. These employees may be working in an industry to bridge employment in between jobs or do the work in an effort to land a full-time job. This is the case for six in 10 staffing employees. Another 20% choose temporary or contract work for its flexibility.
Distribution of Contract and Temporary Workers
36% industrial
24% office-clerical and administrative
21% professional-managerial
11% engineering, information technology (IT) and scientific
8% health care
These contract and temporary employees are in high demand as companies look to gradually come back to work post-pandemic. Temporary and contract workers not only help fill in gaps when it's not feasible to hire full-time employees (FTEs), they are increasingly becoming a great source of add-on talent when a business is in search of skills they do not currently have in-house.
With the need for temporary and contract workers growing, there is more reason than ever to let your staff know how much they are valued. At Staffing Kansas City, we are incredibly grateful to our workforce and to our clients. We are proud to see how our collective workforce continues to play a very important role in helping local businesses get back on their feet.