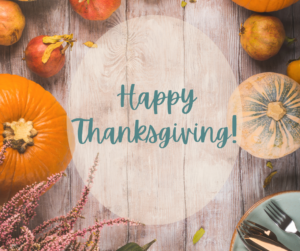 Back in 1621, the Pilgrims and the Wampanoag people of the Hudson Valley gathered to give thanks, celebrating the successful harvest and blessings of the year. Each Thanksgiving, we join together to recreate the blessings they felt with our own gratitude for a bounty of food, friends, and family.
Simply defined as a feeling of appreciation or thanks, gratitude allows us an opportunity to say thank you for our blessings, both big and small. While 2020 has thrown each of us several curves throughout the year, there is still plenty of good to be found. It is all in how you look for it.
While it is easy to get caught up in the big things (family, friends, jobs, and economics); gratitude at its most basic is about taking notice of the small things in the moment. It is about sipping coffee in a favorite mug. It is quietly celebrating when a package arrives a day or two early or simply finding the perfect binge watch to match your mood at the end of a day.
These elements of gratitude all count, and they are important. Don't get caught up in thinking a feeling of gratitude isn't big enough or it's not socially acceptable to have a moment of thanks for something like a favorite pair of shoes, an open parking place or a short line at the checkout.
Practicing gratitude with regularity allows us to be conscious of our thoughts and feelings, and what we choose to be grateful for deserves to be as unique as our stresses. By acknowledging the role both play in our lives, we learn to build balance and a foundation of perspective for the challenging days. Gratitude will never equate to being free from stress but with practice, we can learn to see the advantages of both.
Reminders
Gratitude is a muscle that needs exercise.
Gratitude builds over time.
Gratitude is free from rules.
Gratitude should induce joy and never inspire guilt.
Gratitude can grow in silence and stillness.
Gratitude comes in many forms.
Gratitude makes life better for us and those around us.
From all of us at Staffing Kansas City, we wish you a Thanksgiving Day filled with gratitude and blessings.