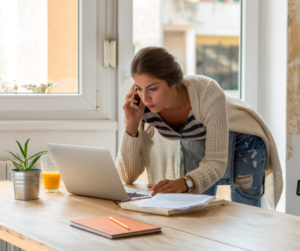 Looking back a year ago, not many of us anticipated seeing the multitude of changes that have taken place over the past year. For those in staffing and hiring, few could've believed that mandated initiatives forcing millions of Americans to work from home (WFH) would become something of the norm.
As states begin to relax or end COVID restrictions, many companies are facing a new question. Does WFH fit into their post-pandemic strategy? A new report from The Conference Board argues that the decision should not be taken lightly.
To put this in perspective, approximately 8% of office-based employees worked from home prior to the pandemic. HR leaders surveyed by The Conference Board expect 40% of their workforce to be primarily remote after the pandemic, and more HR managers are including WFH options compared to a year ago.
Occupations Least Likely to Return to the Office
Computer and mathematical – 68%
Legal – 58%
Business and financial operations – 54%
Despite long-held beliefs of a drop in productivity outside the office, many companies saw the opposite with greater productivity as WFH became a reality. As a result, many employers began to see the many benefits of WFH such as less spending on office space and a larger talent pool for hiring. The comfort level of casting a wider net for talent also continues to grow. Yet, The Conference Board argues that the results seen in the past year may not provide a clear picture
"Remote work worked in 2020 with workers and employers reporting increased productivity on recent  surveys," said Gad Levanon, Vice President, Labor Markets at The Conference Board. "But 2020 was also a year like no other, full of stressors likely to drive employees to work harder and longer. Whether remote work can be as effective in normal economic conditions remains to be seen. Leaders need to be armed with trusted in-house performance analytics and a clear-eyed view on collaboration and culture as they seek the optimal balance of remote work in the months and years ahead."
Through the rise of remote work, there may also be increasing numbers of workers who choose to relocate, looking for lower cost of living and higher quality of life, according to Dana Peterson, Chief Economist of The Conference Board.