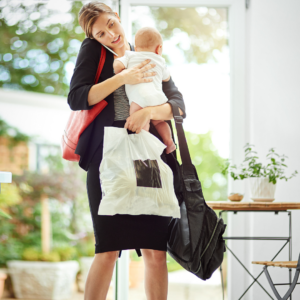 During the pandemic, moms who juggled work from home and school from home left the workforce in high numbers. This period marked the lowest participation of female workers in a decade, according to the U.S. Bureau of Labor Statistics (BLS). Thankfully, the approximately 2 million American women who left the workforce during that time have returned at close to pre-pandemic numbers. In May 2023, the participation rate for women aged 25 to 54 was 77.6%.
Historic High
The month of May also saw an addition of 339,000 jobs to the economy. The biggest gains were seen in administration and support services, healthcare and government jobs. The BLS reported 1.8 jobs available for every jobless person. These numbers are important since for some women, the availability of more jobs has translated into the ability to negotiate more flexibility into their work schedule. This might be in the form of work-from-home or a hybrid work option with flexible work hours.
Many mothers also cite access to remote positions and flexible roles outside of the office as helping to remove some of the worry and challenges of finding reliable childcare. Securing affordable childcare is becoming increasingly difficult, an issue that is mutating into a crisis, according to The National Child Care Association. Households spend between 8% to 19% of annual median income on childcare.
Building in Flexibility
Stabilizing the return of women to the workforce could be precarious as many companies continue to grapple with where they stand on work-from-home and hybrid work structures. Much has been written about major companies and well-known figures pushing for a return to the office. For employees, the issue is often more nuanced. The desire to work from home depends on numerous factors, many of which are not always easy to define.
This includes elements of productivity, teamwork and collaboration. Depending on if you are an extrovert or an introvert, these outcomes could look distinctly different. But one place where many agree is the desire for flexibility to balance work commitments with life commitments. This is especially true as school hours and availability of childcare rarely fit neatly into a traditional 8-5 schedule.
When conducting employee hiring for our clients, we believe it's always important to look for the best qualified candidates. Sometimes that is someone who will need extra flexibility in their schedule to care for family members, young and old. This flexibility is important to keep in mind when it comes to keeping women as a vital part of the U.S. workforce.