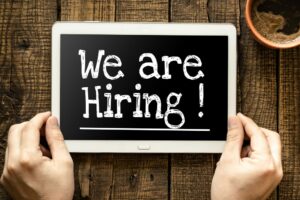 Slow economic recovery could be on the upswing as nearly half of U.S. hiring decision makers anticipate adding new employees in early 2021, according to a survey from The Harris Poll. The survey, commissioned by Express Employment Professionals, found 46% look to boost hiring in the next couple of months, 43% report no changes and only 7% anticipate layoffs on the horizon.
Hiring Forecast
Those positive hiring numbers are generally higher among companies with more employees.
50-99 employees: 59%
500+ employees: 57%
100-499 employees: 57%
10-49 employees: 40%
2-9 employees: 21%
For some, hiring began in 4Q 2020 with activity continuing into 2021, according to David Robb, director of operations in the Grand Rapids, Michigan Express office. The boom is particularly evident among light industrial positions. Others noted hiring will largely depend on what will happen regarding the reopening of their state and its schools as both impact companies as they try to ramp back up. A successful rollout of the vaccine will also determine the speed with which retail and food service can move forward.
"The good news of increased hiring is much welcomed after a tough year, and if circumstances continue to improve, I anticipate more businesses will be ready to bring on additional employees in the coming months," said Bill Stoller, Express CEO. "Getting people back to work safely should be the number one priority in rebuilding the economy in 2021."
Increased Consumer Optimism
Positivity is also on the rise among consumers. Households' year-ahead spending growth expectations rose to 4.2%, according to a January 2021 release of the Survey of Consumer Expectations from the Federal Reserve Bank of New York's Center for Microeconomic Data. This is the highest level recorded in more than five years. The labor market expectation reflects improvements in expectations about job security and finding a new job.
The mean perceived probability of losing a job in the next 12 months decreased for the third consecutive month (15% in December to 13.6% in January). The mean probability of leaving a job voluntarily in the next 12 months also went down in January, from 17% to 16%, a decrease seen across demographic groups, according to the Survey of Consumer Expectations.