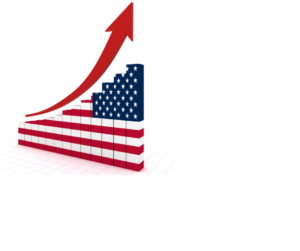 A mid-January article from the Wall Street Journal forecasted growth ahead for the U.S. economy. As the nation and the world continues its recovery from the COVID-19 pandemic, a survey of economists by the Wall Street Journal offers some good news with anticipated 4.3% growth of the U.S. economy. The report attributed the boost in the 2021 economic forecast to optimism about the continuing rollout of the COVID-19 vaccine and anticipation of additional financial aid relief for individuals and companies from Washington DC.
Nearly half (44%) of the economists surveyed by the Wall Street Journal said the administering of the vaccine will improve the labor-market outlook slightly this year and 49% said the vaccine will provide a great boost to the jobs sector. A number of those surveyed also suggested that the vaccine would be critical for recovery.
GDP Growth
The January survey of economists shows a slight rise from the last growth forecast of 3.7% at the end of the fourth quarter in 2020. Released by the Commerce Department on Jan. 28, the fourth quarter and 2020 growth estimates were looking forward to the first quarter with economists anticipating GDP will rise at an annual rate of 2.2%. This is slower than the early expectation recorded in December 2020. It is anticipated the economy will continue to see improvements into the second and third quarters with GDP growth of a 4.9% annual rate in the second quarter and 5.2% in the third quarter.
Growth in U.S. staffing revenue is also expected to grow 12% in 2021 as more companies begin to fill employment needs. This is up from the July 2020 forecast of 11% growth. Staffing industries expect to see revenue growth in the areas of life sciences and traveling nurses. Staffing in the IT industries will see a slight decline, although talent in the category remains in high supply. Reopening and recovery of the economy will be beneficial to many, leading to positive momentum throughout the year.