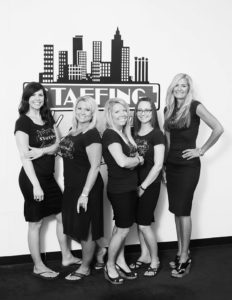 As we find ourselves near the end of the year, I think it is time we gave ourselves a collective pat on the back. 2020 has been a doozy for several reasons but on the positive side, the year has also uncovered the resiliency of businesses people and their employees across the Kansas City metro. While the last 6-8 months have been a tough run, I believe that despite the disruptions and shutdowns we are learning how to find new ways to do things and paving the way for better things ahead. One of these things being the collaborations that are taking place as people reach out to help make a difference.
As a local staffing company, we pride ourselves on being there for our clients and are always on the lookout for new ways to help them improve their business by assisting with recruitment, staffing and a variety of human resources-related offerings. This includes helping small to medium-sized companies with employment needs and offering a variety of pre-employment human resource services and employee screening.
One recent example of this is working with our employer clients to help place employees that had to be laid off because of the shutdowns. We also work with companies to assist with finding temporary or contract workers in response to unique business needs and to changes in the unemployment rate.
With both businesses and employees continuing to investigate the unknown, we understand the importance of being nimble and adaptive to the current environment. Working closely with our clients allows our recruiters to understand the unique needs of each business owner and enables us to find the right employee fit, anticipating needs of the client today and in the future.
Staffing KC Placement Services:
Pre-qualified interview candidates
Pre-employment skills assessment
Criminal background checks
Drug screening, credit, and DMV check
As a trusted employment services partner, we help Kansas City companies navigate uncertain times by providing top performers to Kansas City companies in clerical, secretarial, sales, accounting, customer service and on-site mailroom, document center and call center management.
If you are an employer looking for a positive reset in 2020 and beyond, give us a call. Our recruiters can help your business navigate the new challenges ahead, and with the Staffing Kansas City replacement guarantee, you can do so with confidence that you found a true partner. Remember, Staffing Kansas City is the only staffing agency that provides "Personnel Services with a Personal Touch".